| click here to browse our general catalog |
Visit some of our favorite supplier's sites for additional great ideas. Please contact us regarding any item of interest as we often have unadvertised special price plans.
| Calendars | Pens - Bic / Sheaffer | | Wearables (Embroidered shirts,hats and more!)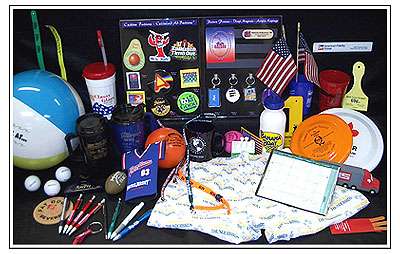 OVER 500,000 ITEMS AVAILABLE TO IMPRINT YOUR LOGO ON.
IF YOU CAN IMAGINE IT . . . WE CAN PUT YOUR LOGO ON IT!

JUST A FEW REASONS COMPANIES UTILIZE PROMOTIONAL PRODUCTS . . . . . . . .
>

PROMOTIONAL
PRODUCTS
ARE THE ONLY
TYPE OF ADVERTISING
THAT PEOPLE KEEP!

BRAND YOUR IMAGE
STIMULATE CUSTOMER LOYALTY
REINFORCE COMPANY MESSAGE
EMPLOYEE INCENTIVES AND AWARDS
COMPANY OUTINGS / GOLF TOURNAMENTS
Browse our online catalogs for ideas. Better yet, contact us at [email protected] and a courteous representative would welcome the opportunity to discuss your needs and promotional goals.